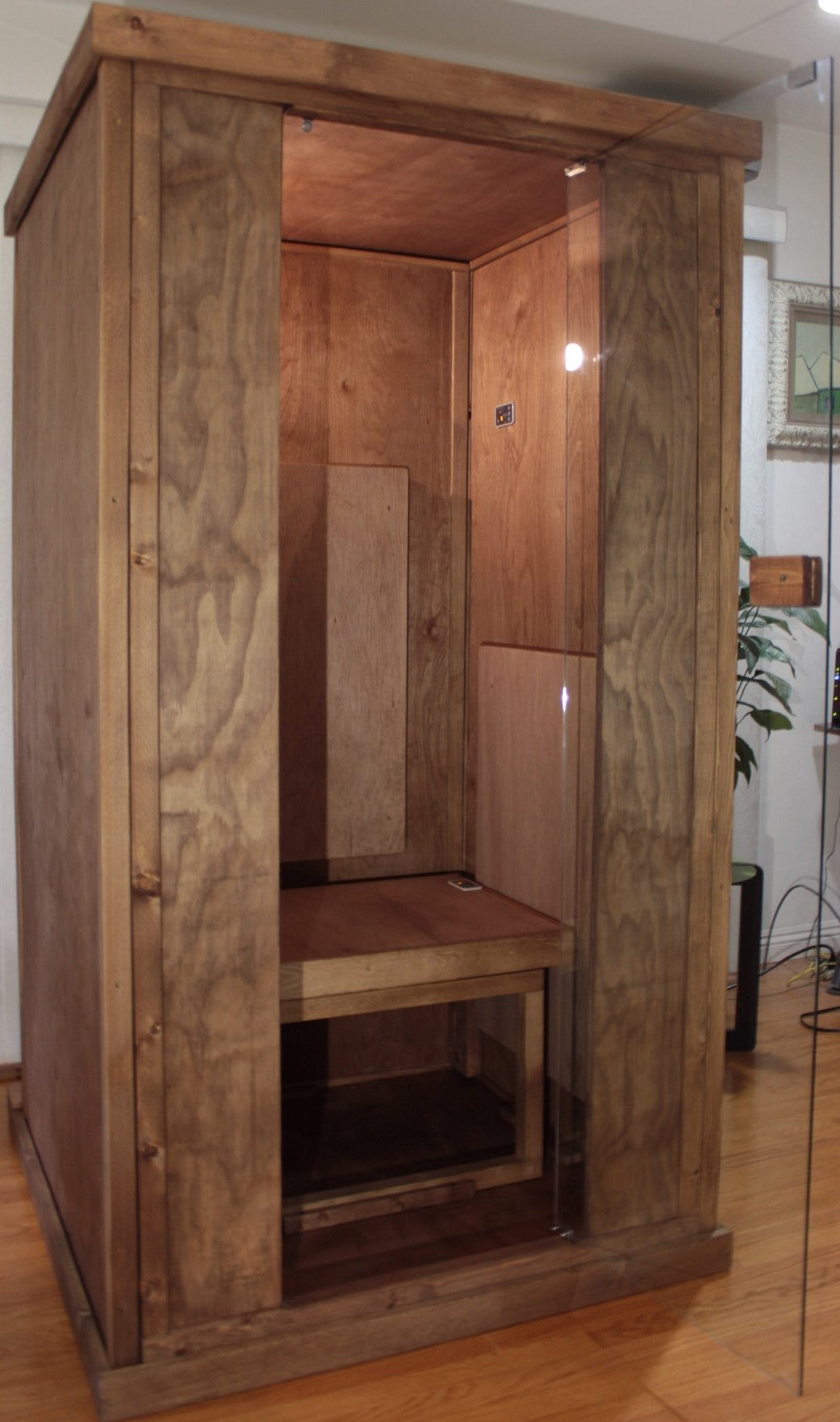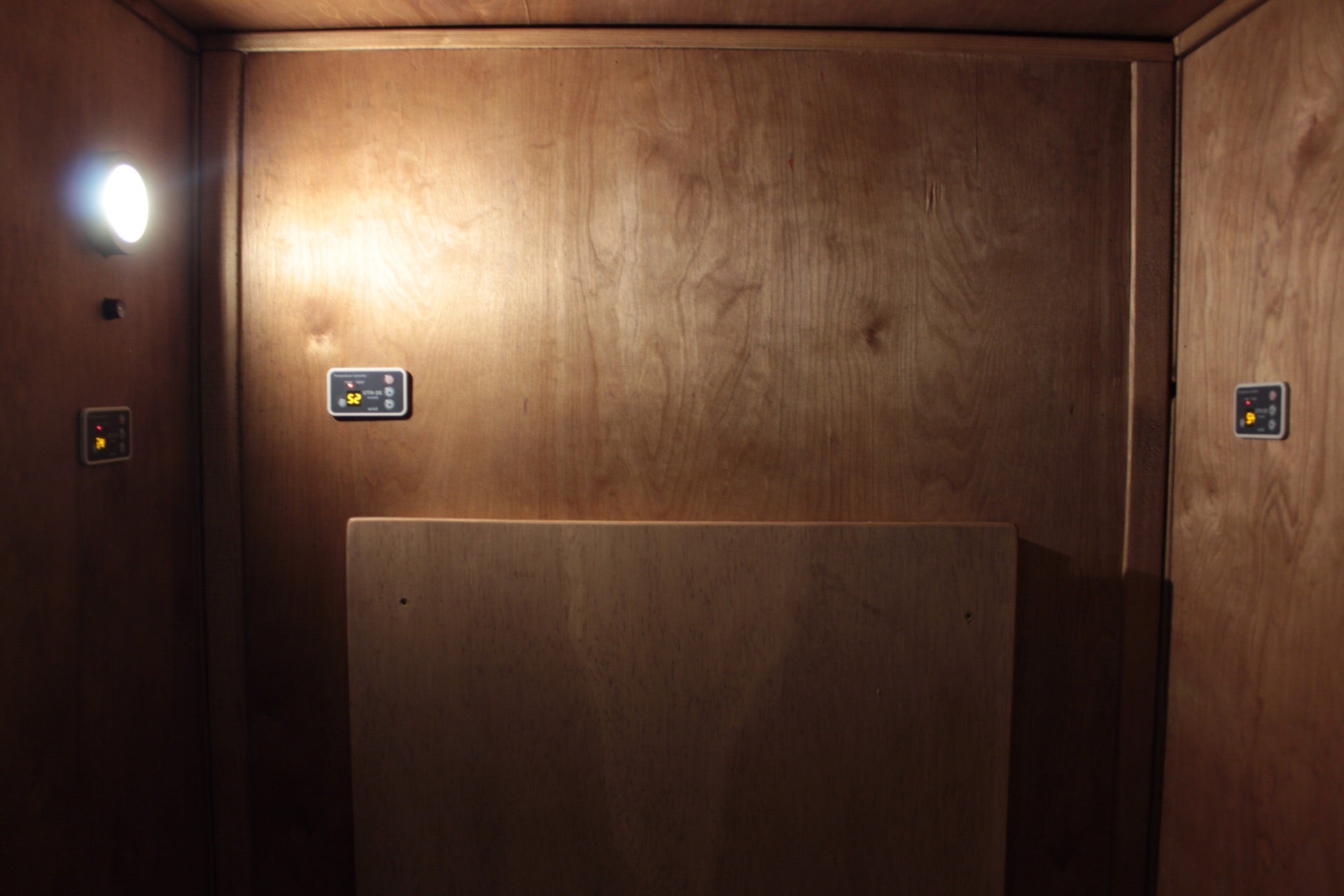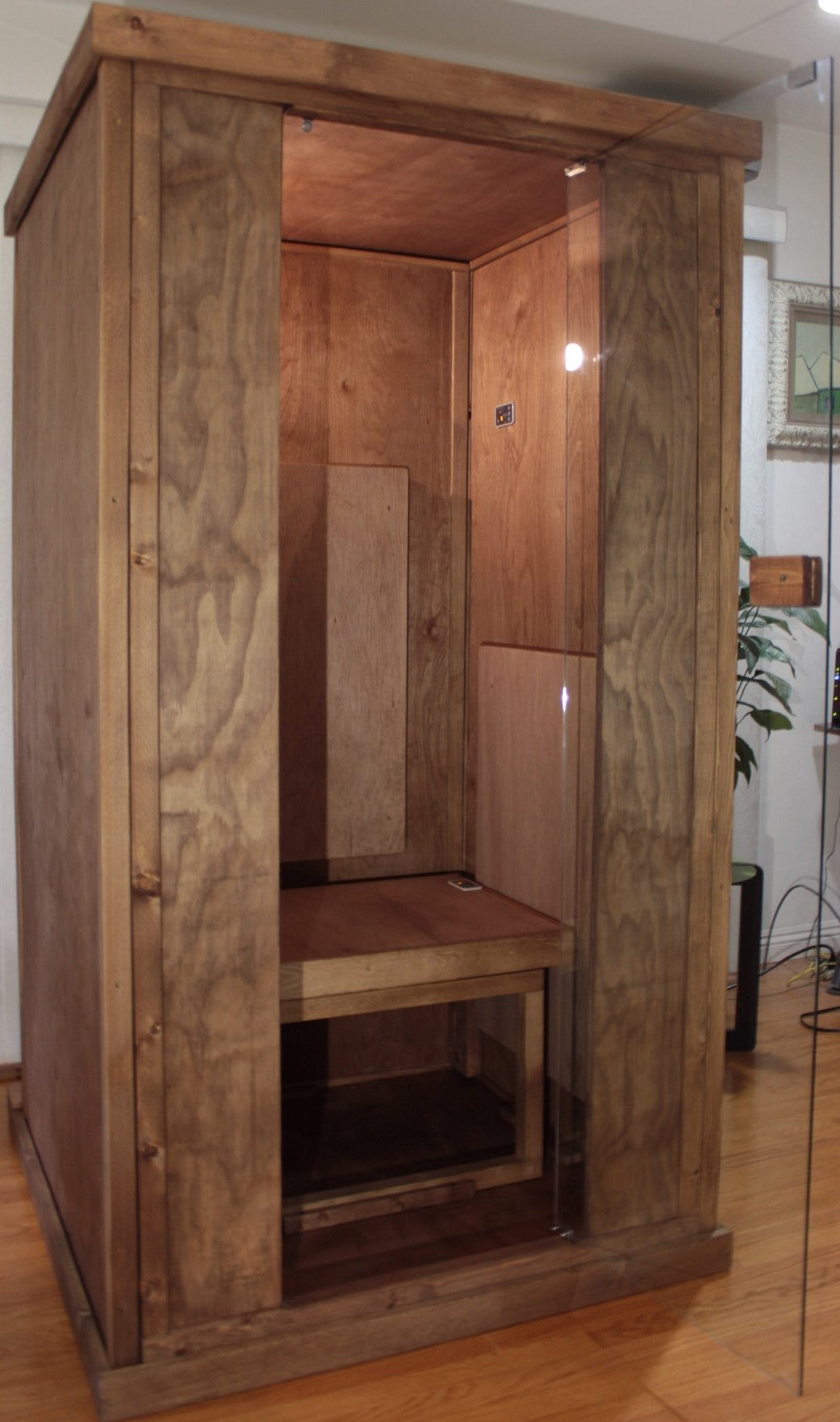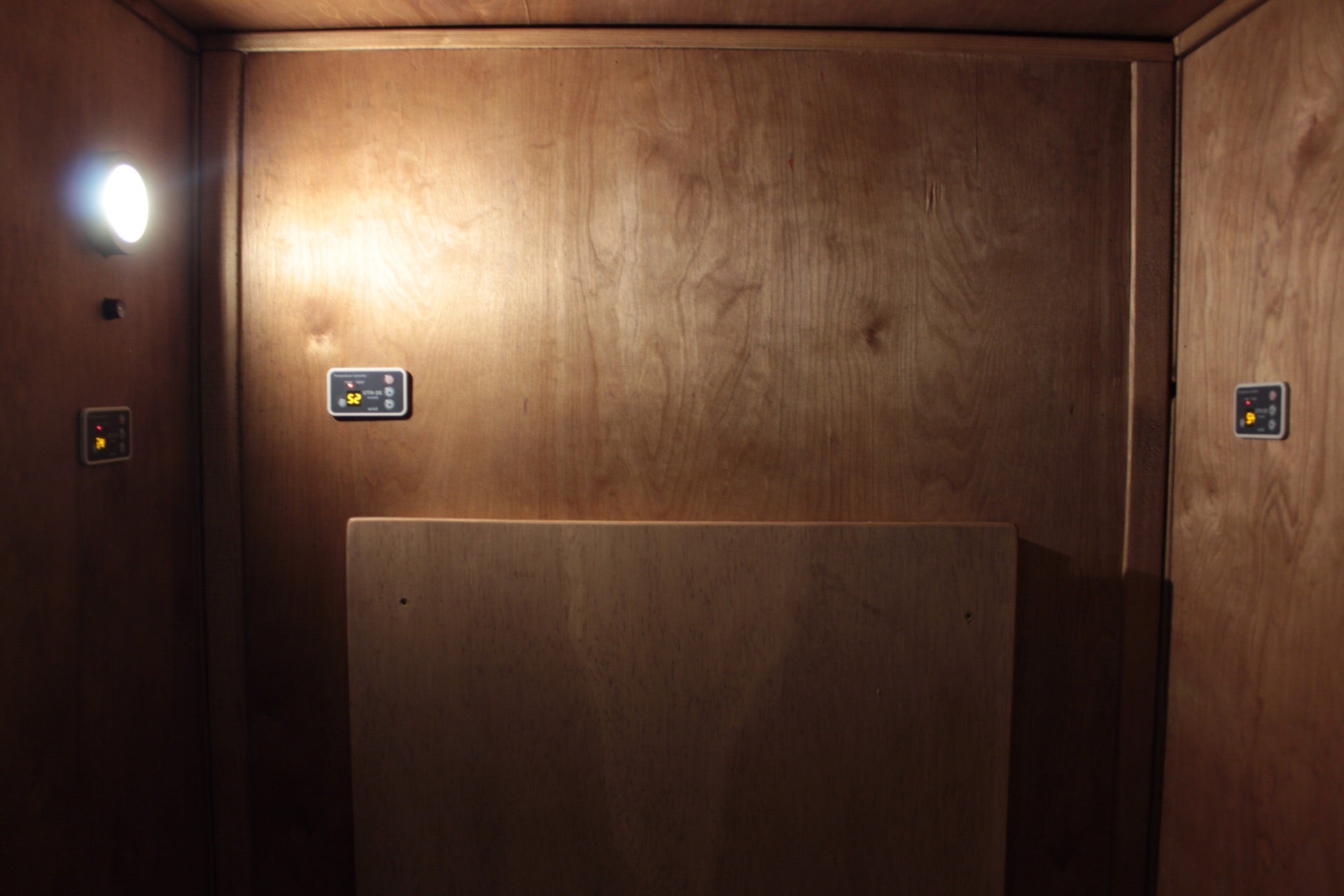 Diamond Panel Far Infrared Sauna Small
Translation missing: en.products.product.price.regular_price
$ 3,400.00
Translation missing: en.products.product.price.sale_price
$ 3,400.00
Translation missing: en.products.product.price.regular_price
Translation missing: en.products.product.price.unit_price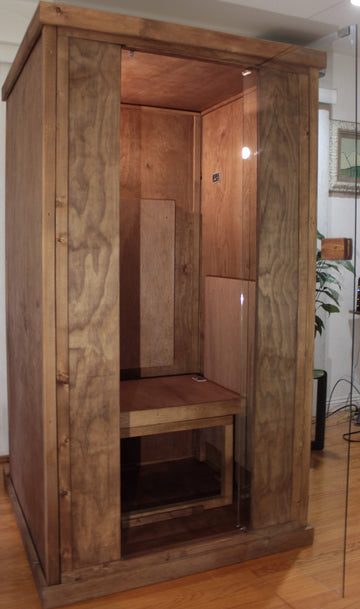 Diamond Panel Far Infrared Sauna Small
Translation missing: en.products.product.price.regular_price
$ 3,400.00
Translation missing: en.products.product.price.sale_price
$ 3,400.00
Translation missing: en.products.product.price.regular_price
Translation missing: en.products.product.price.unit_price
Product description
Shipping & Return
Ideal for limited space while requiring full benefits of sauna. Each heater and the bench has its own controller for the best temperature distribution.
Diamond Panel Far Infrared Sauna Small Size 
Made in USA | 4 - 6 weeks for delivery in the US (+$600 freight in US)
Far Infrared Sauna's offer a different approach to detox than ordinary saunas – they heat with deeper penetrating far-infrared waves for a more thorough detox but most FIR Saunas also emit regular heat even if you don't know it!
The efficiency of a FIR Sauna involves how much of the heat energy is actually in the correct far infrared spectrum. Pure far-infrared is the spectrum of waves from 4 to 16 microns in wavelength but most FIR Saunas out there produce not only far-infrared but also near-infrared (0.76 to 1.5 micron) and mid-infrared (1.5 to 4 micron) waves from the sauna heater.
A new innovation in FIR Sauna technology makes these standard designs obsolete if you want the ultimate Far Infrared Sauna experience.
The heaters in a far-infrared sauna are normally made with various combinations of ceramic and charcoal materials along with electrical wiring induce the heat. The breakthrough in FIR Sauna technology involves a proprietary method of Activating Carbon Fibers to make them conductive to electricity. We call these Diamond Panels because they are made with specially grown zirconium crystals that are crystallized with the carbon. Since the Diamond Carbon Fibers are conductive no copper wires or other sort of complicated and inefficient power supplies are necessary and the temperature stays very low. 
The key is to have NO METAL in the heaters and they must have a large surface area.
Active Carbon Fibers make this a reality
Although it looks like an ordinary infrared sauna, this sauna uses Diamond Carbon Fibers that cover most of the interior within the sauna. In fact, it has the largest radiation surface area in the industry. Diamond Carbon Fibers have up to a 20-times-larger surface area of radiation than other heaters that are commonly used in infrared saunas. With the total radiating surface of 3,200 square inches, our Sauna will provide you with the most advanced far-infrared experience. There is almost zero convection in the sauna with pure far-infrared. You will be amazed at how such a warm environment makes you feel so comfortable and pleasant.
When comparing to other brands keep in mind that the efficiency of Diamond Carbon Fibers which are delivering the optimum far-infrared heat without the waste heat of near-infrared and mid-infrared less surface area is actually needed to efficiently get you to the point of detoxification. Warming you internally is the ultimate goal – and with the best far-infrared technology you don't need to wait for 15-20 minutes while the sauna "warms up"! Our saunas only require a 2 minute startup and this means a lot more than just saving you some electricity.
Perspiration is not the only way to get benefits from using a sauna
Most of the other infrared sauna vendors talk about perspiration as if it is the only way that we can get benefits from using infrared saunas. However, our sauna can be used in many other ways, including the perspiration. Various other options maybe enjoyed. Such a variety is only possible because of the superior Diamond Carbon Fibers technology and our accumulated knowledge on far-infrared. You can learn more about how to use our unique sauna when you ask our experts, who are ready to answer all of your questions at 1-541-434-0318.
Warmth delivered by
 

Diamond

 

Carbon Fibers
MPS is different from other far-infrared heating devices, which commonly use linear heating coils embedded within thermally conductive materials. Pure Far-infrared by Diamond Carbon Fibers™ delivers ultimate soothing warmth throughout your entire body. Each carbon fiber emits bio-genetic waves of far-infrared across most of the internal arch surface of the dome as it gets excited with an electric current. It feels soft, relaxing, pleasant, and refreshing, which you might not have experienced from any other heat source yet.
Proven safety
Diamond Carbon Fibers™ have been used in hundreds of luxury commercial saunas 
internationally during last 15 years. Among more than 20,000 Diamond Carbon Fibers™ that have been running 24 hours a day and 7 days a week, there has not been even a single failure or maintenance issue so far. And all of the original Diamond Carbon Fibers are running today with new ones added continuously.
Expert consultation
Learning how to use a far-infrared product is as important as choosing a good one. MPS' accumulated knowledge will let you experience the optimal benefits of far-infrared. Knowledgeable medical doctors, scientists, and industry experts who have been using and researching MPS products for multiple years combined will let you go through continuous education process to make sure the best results. Please register to become a member and enjoy the full and rich access to the pool of knowledge.
Product specification
Uses only solid Cedar Wood (no plywood)
Requires 120 v, 20 amps dedicated outlet

Specifications:
Requires 120 v, 20 amps dedicated outlet.
Size 38x42x75h
Shipping cost is based on weight. Just add products to your cart and use the Shipping Calculator to see the shipping price.
We want you to be 100% satisfied with your purchase. Items can be returned or exchanged within 30 days of delivery.