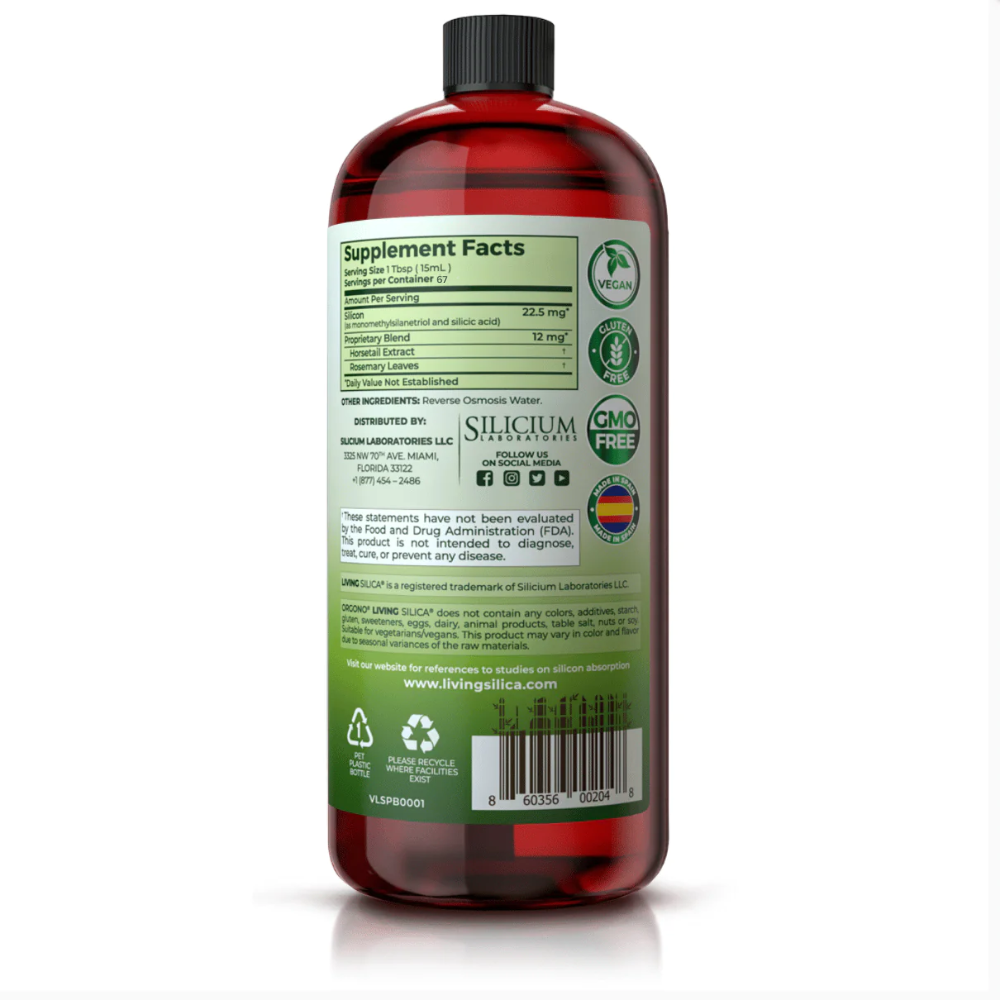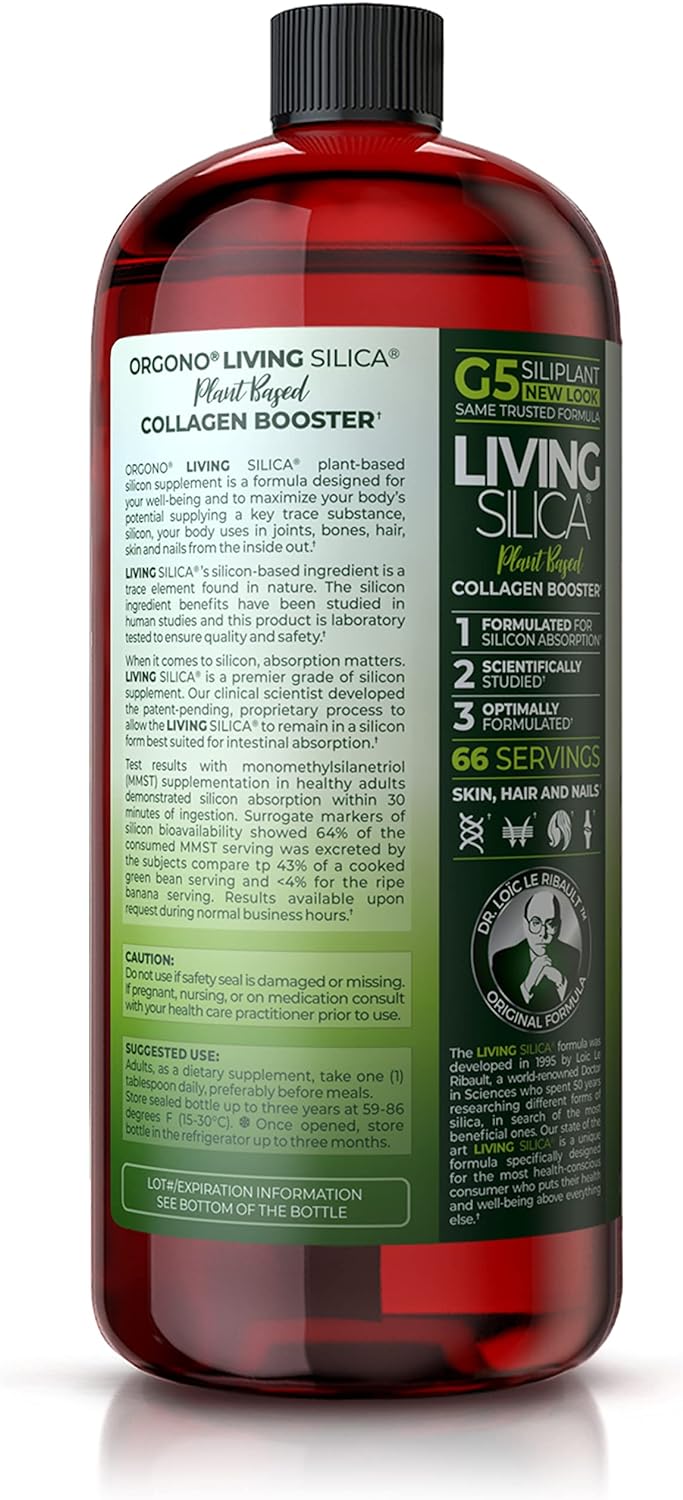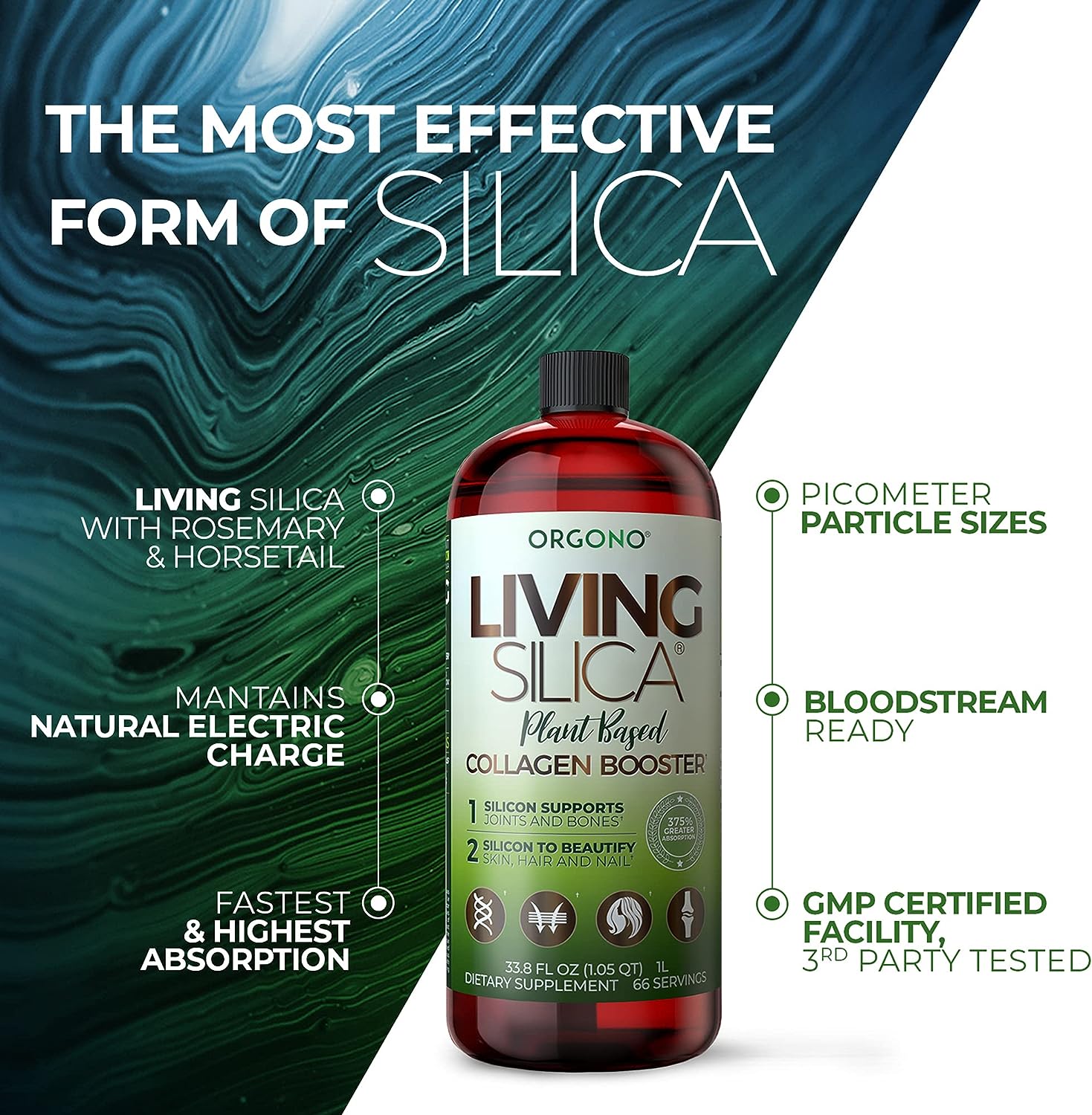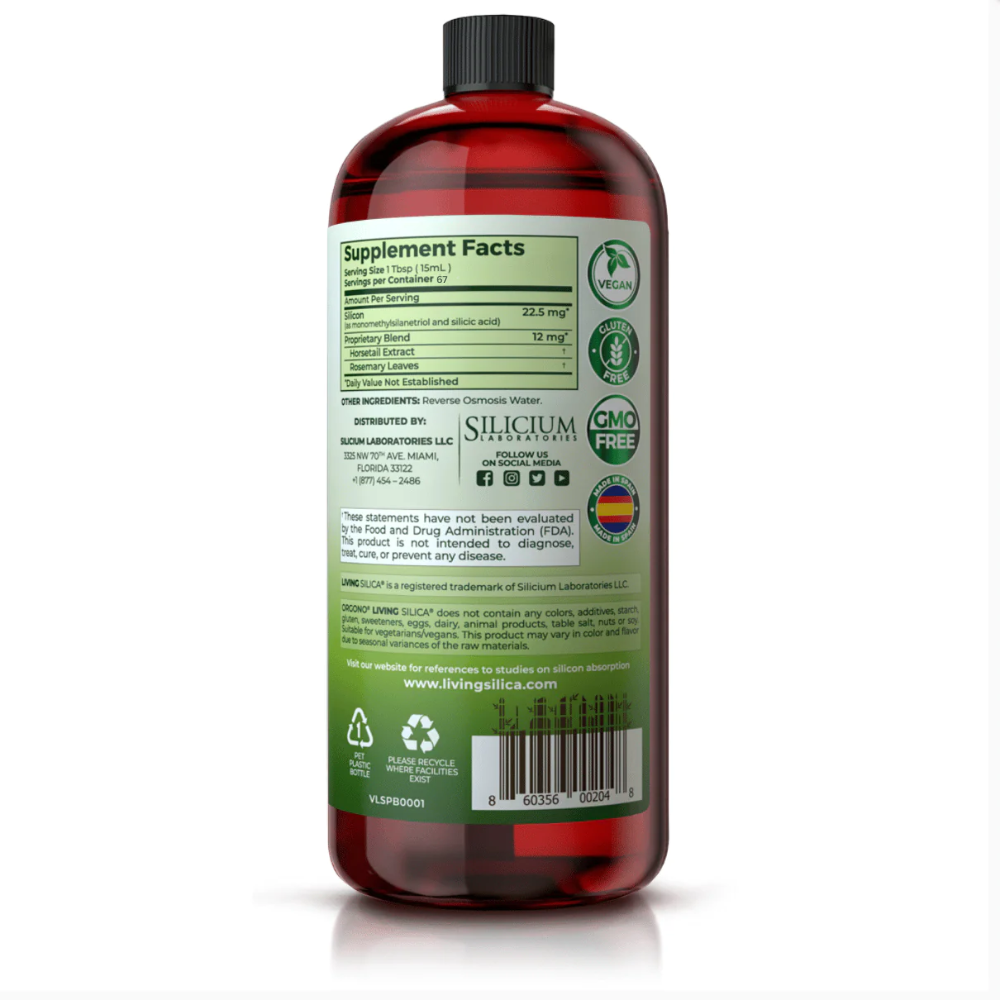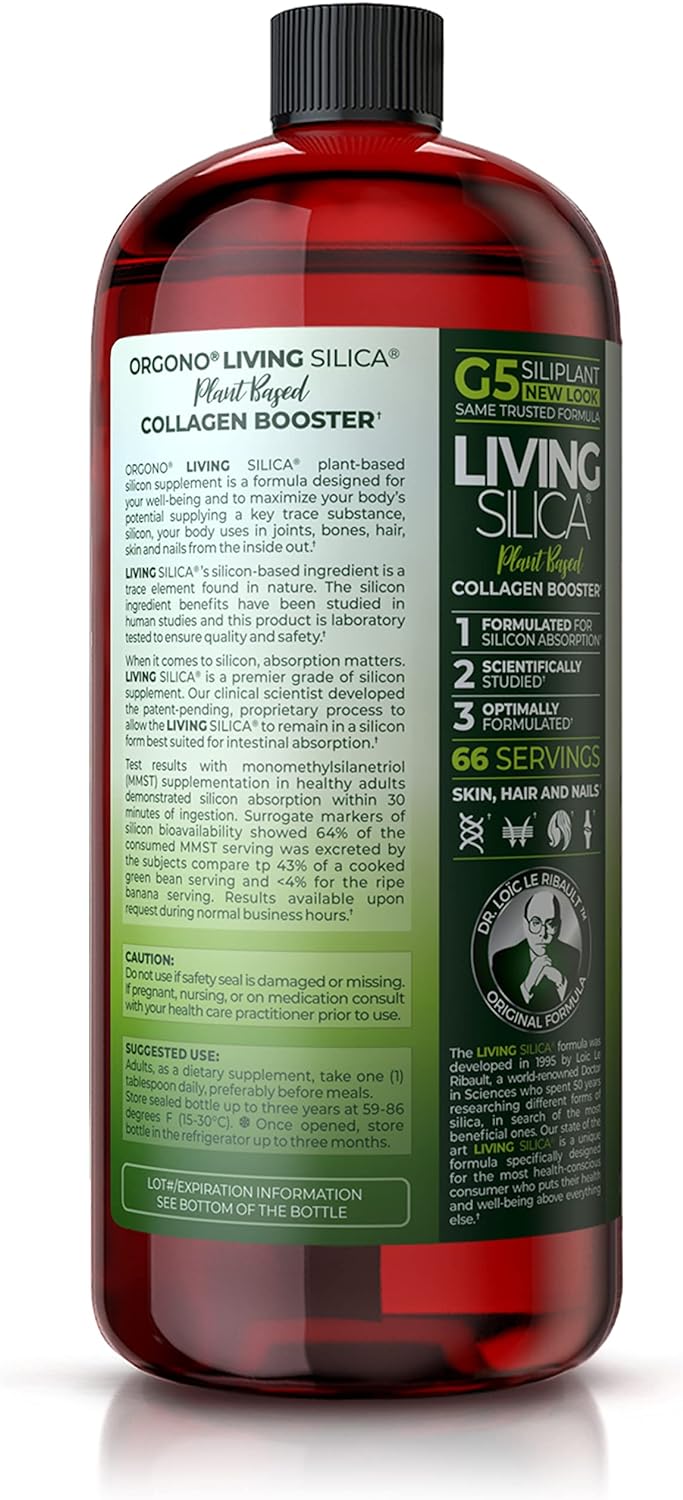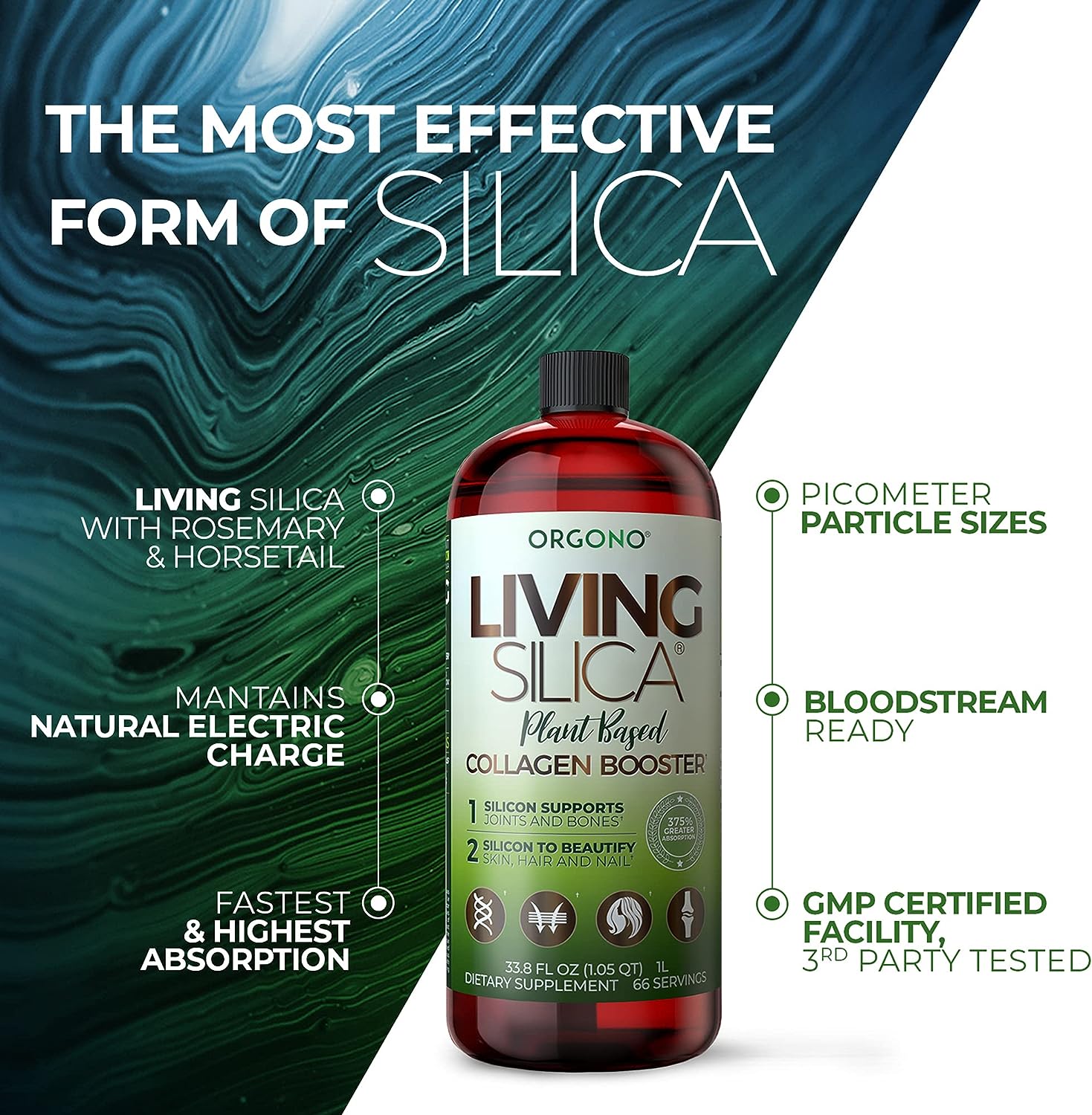 Orgono Living Silica Plant Based Collagen Booster 1000ml
Translation missing: en.products.product.price.regular_price
$ 45.00
Translation missing: en.products.product.price.sale_price
$ 45.00
Translation missing: en.products.product.price.regular_price
$ 49.95
Translation missing: en.products.product.price.unit_price
Orgono Living Silica Plant Based Collagen Booster 1000ml
Translation missing: en.products.product.price.regular_price
$ 45.00
Translation missing: en.products.product.price.sale_price
$ 45.00
Translation missing: en.products.product.price.regular_price
$ 49.95
Translation missing: en.products.product.price.unit_price
Product description
Shipping & Return
Supports Healthy Collagen and Elastin Production for Joint & Bone Support, Glowing Skin, and promoting healthy Hair & Nails.
LIVING SILICA® is a highly bioavailable formula that helps promote healthy production of collagen, which is designed to supercharge your health and improve your body's functional potential.
Silica is a vital nutrient required to renew, strengthen and revitalize bones, joints, hair, skin and nails-from the inside out.*
Skin Hair and Nails
Supports Healthy Bones and Joints*
Boost Overall Body Health
Boost Collagen
Safe and Clinically Tested

Living Silica®

Would you like to experience the powerful benefits only silica supplementation can provide?

Several studies have examined silica for its ability to provide the raw material the body needs to boost collagen and for the connective tissue formation. The Doctor-formulated LIVING SILICA® helps you feel radiant, youthful, and energized again by providing you with most bioavailable silica supplement money can buy.*
The LIVING SILICA® formula is manufactured in our laboratories through a unique proprietary process developed in Europe by Dr. Loïc Le Ribault as the result of 50 years of research. What makes LIVING SILICA® an innovative liquid silica supplement unlike anything else on the market is its absorption rate four to ten times higher than natural silica supplements.

As we become adults, silica naturally decreases in the body, slowing functions that are essential to health. LIVING SILICA® is a doctor-formulated, professional-grade supplement that designed to support your natural healthy collagen production. According to independent clinical trials performed in the UK, our proprietary formula has the highest absorption rate, raises the solubility limit of Si and maintains it in a small, monomeric and well-absorbed form.

Bioavailability measures the extent to which a nutrient can be used by cells in the body. No other colloidal silica, silicic acid or plant extract based silica supplements in the marketplace provide higher bioavailability than LIVING SILICA®.

When you absorb more silica into your body, you're able to generate more collagen.*
The problem is that most people consume collagen to get its ultimate effects. LIVING SILICA® helps our bodies promote a healthy collagen production without having to consume it, giving us a full spectrum of benefits in our body, positively affecting our energy, stress levels, and more!
WHAT'S IN Living Silica®?
We all want to know what we're putting into our bodies. That's why LIVING SILICA® has only all-natural ingredients of the highest quality.
Thanks to our unique formulation, unlike other types of silica on the market LIVING SILICA®, has zero side effects.
It has no preservatives, sweeteners or artificial colors.
It is gluten-free, dairy-free, egg-free, soy-free and nut-free.
It is non-GMO, vegan, paleo and Kosher friendly.
The Benefits Of Living Silica®
Clinical studies have shown that a regular intake of silica has significant benefits for the entire body, including promoting and maintaining healthy joints and bones and healthy metabolism, and absorption.* This enhanced ability to absorb crucial nutrients has numerous benefits, such as nicer hair, supporting healthier nails, and glowing skin.

Increasing your daily intake of silica with this safe supplement can help quality of life, athletic performance and beauty. Silica supports the healthy building blocks of collagen, glucosamine, chondroitin, and hyaluronic acid to support healthy connective tissue.*

Athletes also benefit immensely from Living Silica's recovery-boosting properties. It minimizes the effects of regular exercise on our bodies by promoting healthy production of collagen, which helps the body recover after an intense workout.

LIVING SILICA® can assist with promoting healthy skin cells, as well. Its support of collagen and hyaluronic acid aid in cell turnover to keep your hair, skin, and nails looking better and vibrant.

ARE YOU READY TO FEEL MORE BOOSTS OF ENERGY, FLEXIBLE, AND HEALTHY?
GET YOUR LIVING SILICA® DAILY SUPPLEMENT TO MAKE YOUR WELLNESS DREAMS COME TRUE!

Highly bioavailable formula designed to supercharge your health and maximize your body's functional potential.*
Reverse osmosis water is filtered and
pure water free of impurities.
SERVING SIZE:
1 tbsp (15 mL)
SERVINGS PER CONTAINER: About 66
(as monomethylsilanetriol)
† Daily Value Not Established.
% Daily Value are based on a 2,000 calorie diet.
OTHER INGREDIENT: Reverse Osmosis Water.
* These statements have not been evaluated by the Food and Drug Administration. This product is not intended to diagnose, treat, cure or prevent saccharides. Does not contain any artificial flavor, sweetener or colorant — ingredients 100 % natural.
Shipping cost is based on weight. Just add products to your cart and use the Shipping Calculator to see the shipping price.
We want you to be 100% satisfied with your purchase. Items can be returned or exchanged within 30 days of delivery.